Shale Shaker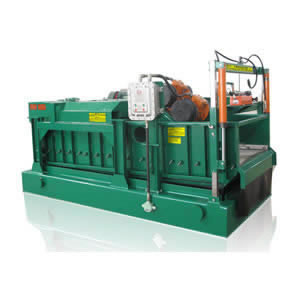 Shale Shaker
Our shale shaker, a piece of solid control equipment, is widely used for the first phase purification of drilling liquid in petroleum exploration and exploitation operations. The relative position between the vibrator rotation center and the shaker basket centroid results in a special vibration track that ensures good screening efficiency, quick disposal and long screen life.
We provide three types of shale shakers, which are S230-3, S230-3×2 and 230-3×3. These products are suitable for all kinds of China-made drilling rigs and drilling liquid circulation systems.
Specifications of Shale Shaker
Model
S230-3
S230-3X2
S230-3X3
Amplitude
A≥2 mm
Rotating Speed of Exciting Vibrator(rpm)
1068, 1252 with double-speed pulley
Projective Index
G=4.8 when n=1068 r/min G=5.9 when n=1252 r/min
G Force P
P=33 kN when n=1068 r/min P=41 kN when n=1252 r/min
Area of Single Screen(㎡)
2.3
4.6
6.9
Screen Angle
1st 0°,2nd 5°, Screen API 20, 40, 60, 80,100 Mesh
Handling Capacity of Single Screen
Q≥501/s when drilling liquid clone velocity≤40 Second
Motor
Model Y112M-4, Rotation Rate 1440rpm,Power 4kW
Overall Dimension(mm)
2900x1850x1320
4200x2675x1340
4200x2675x1340
Weight(Kg)
1588
3323
4570
As a professional solid control equipment manufacturer and supplier in China, Rugao Yaou Company can provide quality shale shakers, mud agitators and desanders at economical prices. As a result of our high product quality and considerate service, our oil drilling equipment has gained an increasing popularity in United Arab Emirates, America, India, Brazil, Russia, just to name a few. To further suit customers' different needs, we also produce well cement tools, workover tools, wellhead control equipment, and more.
We are looking forward to serving more global customers. Please contact us for further information.
Oil Drilling Equipment
Centrifuge
A centrifuge is a piece of solid control equipment used for purifying petroleum and natural gas drilling fluid. Our LW series centrifuges are of many specifications, and provide many drive types like mains frequency dual ...

Degasser
Our vacuum degasser is a piece of solid control equipment for the treatment of gas-cut drilling fluid. It is newly developed on the basis of the internationally advanced degassers.