Mud Agitator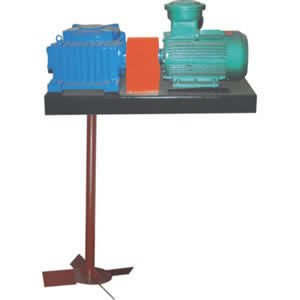 Mud Agitator
A mud agitator is one of the most commonly-used solid control equipment. It is used to continuously mix the drilling liquid with impeller evenly and make the cuts suspend in the drilling liquid. Our drilling mud agitator adopts SEW reducer with German technology. It has the features of being effective, compact, powerful, and easy to maintain.
Specifications of Mud Agitator
Agitator
ZJC5.5
ZJC7.5
ZJC11
ZJC15
Input Horse Power
HP
7.5
10
15
20
Max. output Torque
lb.ft
539
747
1116
1537
Output Rotating Speed
rpm
60
60
60
60
Size of impeller
inch
28~47
28~47
28~47
28~47
Overall Dimension
mm
1035*500*612
1035*500*612
1240*600*683
1240*600*683
Weight
kg
618
651
847
887
Rugao Yaou Company is a mud agitator manufacturer and supplier based in China. Our specialized products include oil drilling tools, solid control equipment, well cement tools, workover tools, and more. Due to our continuous efforts, our petroleum equipment is safe to use and features reliable quality and long life.
Welcome both national and international customers to contact us for more information on our oil drilling equipment.
Oil Drilling Equipment
Mud Hopper
Our mud hopper is a new type mixing device characterized by simple structure and easy connection. It can perform quick and homogeneous mixing while consuming less energy.

Mud Gun
Rugao Yaou Company is a mud gun manufacturer in China. Our DN50 mud gun, a kind of solid control equipment, is designed for solid control system of ZJ drilling rig. It is mainly used in the drilling mud circulatory system, and can prevent mud precipitation.