Hydraulic Press Brake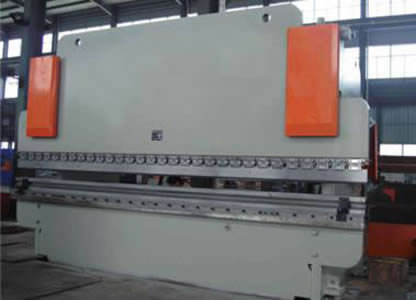 Hydraulic Press Brake
A press brake, also called a brake press, is a machine tool used to bend sheet and plate materials. Generally, two C-frames form the sides of the press brake, connected to a table at the bottom and on a moveable beam at the top.
By the means of applying force, press brakes can be divided into several types, such as mechanical press brakes, pneumatic press brakes, hydraulic press brakes, and servo-electric press brakes. Additionally, there are also manual press brakes and CNC press brakes.
Hydraulic press brakes use steel welded structure for high strength and good rigidity. With reliable performance, high precision and high speed, they are more and more popular among customers worldwide.
Rugao Yaou Company is a Chinese hydraulic press brake manufacturer. We are able to produce presses from 100 tons to 400 tons to suit your different requirements. The back gauge(X) and range of slide block(Y) are automatically controlled by computer. The back gauge uses ordinary screw mandrel and precision screw mandrel.
Standard Configuration
1. Seal ring and dust ring are Japanese VALQUA products;
2. Main electrical elements imported are from Germany Siemens /France Schneider;
3. Main hydraulic elements are imported from America OMG.
Besides, we also manufacture well cement tools, oil production tools, and other oil drilling equipment to suit your oil drilling requirements. Made from quality raw material, our products are reliable and durable. Currently our economical products are in increasing demand in many countries, including Russia, the United States, Germany, Egypt, India, and more. What's more, we provide onsite maintenance, debugging, training service, and can accommodate your OEM request. Thank you for visiting our website! For more information about our products, please do not hesitate to contact us.
Oil Drilling Equipment
Rolling Machine
A rolling machine is a machine tool that allows the rolling of sheet metal. It adopts unique rolling technology, and provides high precision end pre-bending. Digital control man-machine dialogue interface makes the operation more easy, reliable and efficient.

Hydraulic Press
As a China oil drilling equipment manufacturer, Rugao Yaou Company provides a wide range of oil drilling products, including tricone drill bit, drill collar, drill pipe, kelly, drill stabilizer, drilling jar, shock absorber, as well as heavy weight drill pipe, casing pipe, and downhole motor.