Dispatch Winch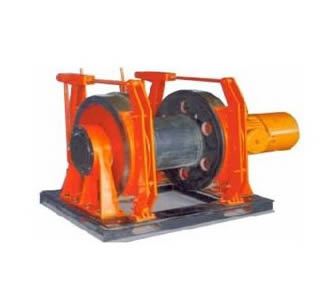 The dispatch winch is flameproof and can be used for mine exploration or transporting materials. Additionally, this product can also be used for dispatching vehicles or hauling heavy object.
The product of JD series is installed with planetary gear drive with the compact structure. This range of product features high efficiency, easy installation, smooth starting, flexible operation, reliable braking and low noise during operation.
The JH series dispatch winch is designed with spherical worm drive. The compact structure and the small size of the machine make it suitable to be integrated with other equipment. The symmetrical structure in the shape of rectangular realizes the easy installation of the product. Due to the smooth and rigid base, this product is quite stable during operation. Additionally, the installation of the anchor on the product is also available to realize the safe, smooth and reliable operation.
Features of JD Series
Model
JD-1(JD-11.4)
JD-1.6(JD- 25)
JD-2.5(JD-40)
JD- 3(JD-45)
Rated Line Pull (kN)
10
16
25
30
Line Speed (m/s)
0.43-1.03
0.6-1.2
1.115-1.632
1.115-1.632
Rope Specifications
(Dia.×L)
Φ12mm×400m
Φ16mm×400m
Φ20mm×650m
Φ20mm×650m
Motor Power (kW)
11.4
25
40
45
Overall Dimensions (mm)
1100×765×730
1350×1140×1190
1900×2350×1370
1900×2350×1370
Weight (kg)
550
1460
2800
2800
Oil Drilling Equipment
Free Fall Anchor Marine Winch
The free fall anchor marine winch is specially designed for the pile driver or lifting the object on boat. The braking system shall be controlled by hand. Particularly, the drum of this product can be pulled out. This product is manufactured with single drum, clutch and the ratchet pawl as well.

JTP Series Mine Winch
The spindle unit is produced in separate or one-piece structure with the drum in flexible structure. Besides the powerful force, the tension on the drum is even. The fuel tank is installed at the rear of the disc brake.