Harrow Winch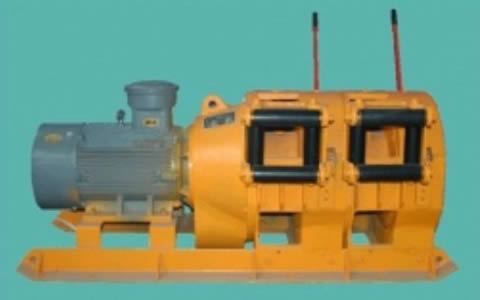 The harrow winch is mainly used for exploring the metal mines in the open air on the horizontal working platform with gentle slope.
Technical Parameters
Model
2DPJ-7.5
2DPJ-15
2DPJ-30
Average Line Pull (kN)
Main Wire Cable
8
14
28
Auxiliary Wire Cable
8
10
20
Wire Speed(m/s)
Main Wire Cable
60
66
72
Auxiliary Wire Cable
60
90
96
Diameter of Wire Cable (mm)
Main Wire Cable
9.3
12.5
15.5
Auxiliary Wire Cable
9.3
11
12.5
Drum Size (mm)
Diameter
205
225
280
Flange Diameter
350
435
510
Thickness
80
125
160
Capacity
Main Wound Roll
45
80
90
Auxiliary Roll Canister
45
100
120
Motor (kW)
Model
Y132M-4
Y160L-4
Y200L-4
Power
7.5
15
30
Total weight (kg)
420
660
1155
Oil Drilling Equipment
JK Series Mine Winch
The JK series mine winch is provided with compact structure and light weight. With the powerful hauling capacity, this product is widely used by mining, metallurgy, construction site, mechanical industry, bridge construction, hydropower station, etc.

JZ Series Shaft Sinking Winch
Popular with metal ores and non-metallic mine, the JZ series shaft sinking winch is mainly used to hang scaffold, water pump, wind-cone, air cylinder and grout pipe in excavation works. Moreover, applications for lifting heavy object on ground and underground are also available for this product.