Desander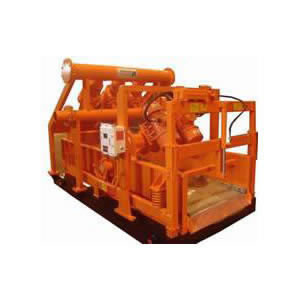 Desander
Our desander, a kind of solid control equipment, is a combination of cyclone desander and shale shaker of drilling fluid. The hydrocyclone is made from high chromium cast iron for good rigidity.
The desander is designed on the basis of particle setting principle. The separated medium-drilling liquid enters along the inner wall of clone spirally, depending on the pressure and speed produced by sand pump. Under the function of centrifugal force and gravity, the larger particles are sunk along the inner wall of clone spirally and drained from bottom outlet to be separated in shale shaker with smaller mesh. Other mediums are ascending along clone spirally to enter the third–class separation device from overflow outlet for further purification.
Specifications of Desander
| | |
| --- | --- |
| Hydrocyclone Diameter | 250mm |
| Hydrocyclone Number | 2 |
| Admission Manifold Diameter | 150mm |
| Overflow Manifold Diameter | 200mm |
| Separated Particles Diameter | 40-74μm |
| Working Pressure | 0.25-0.4Mpa |
| Capacity | 28-54L/S |
| Vibration Motor Power | 0.75kw |
| Effective Screen Area | 1500×600mm² |
| Dimension | 1460×1130×2100mm |
Rugao Yaou Company is a desander manufacturer and supplier in China. We specialize in the production of solid control equipment, well cement tools, oil production tools, and other oil drilling equipment. Through our expertise and many years of experience, we have been awarded the certificate of the American Petroleum Institute (API).
Thanks for visiting our website. For more information, please feel free to contact us.
Oil Drilling Equipment
Desilter
Our desilter is designed and manufactured for the third phase purification of drilling liquid. It is used to remove solid particles ranging from 15 to 47 microns, which consist of over 60% of the total solid content. The solid content in fluids can be controlled below 0.15% using our desilter. ...

Gas Liquid Separator
Our gas liquid separator is the solid control equipment for the first stage degassing of gas invaded mud. It is primarily used for removing the big bubbles with the diameter ≥Φ3mm. Most of these bubbles are the expanded gas in the drilling fluid filled in annular of wellbore.