Mud Hopper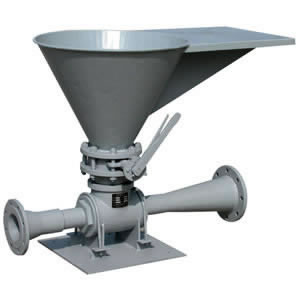 Mud Hopper
Our mud hopper is a new type mixing device characterized by simple structure and easy connection. It can perform quick and homogeneous mixing while consuming less energy.
The mud hopper is primarily used to quickly mix drilling fluid and its additives. The additives of drilling fluid, such as barite powder, bentonite, salt, slurry and chemical additives, will be homogeneously mixed with drilling fluid before entering the drilling fluid system, which can improve the quality and reduce the consumption of drilling fluid, fully play the function of additives, save the cost of slurry, accelerate feeding and strengthen the mixing capability.
Specifications of Mud Hopper
| | |
| --- | --- |
| Inlet drainage | 180 |
| Inlet head | ≥31 m |
| Diameter of funnel | 705 mm |
| Diameter of inlet | 125 mm |
| Diameter of outlet | 150 mm |
| Jet speed | 45 m/s |
| Motor power of mixing pump | 55 kW |
| Amalgamate speed | Not lower than 300Kg/min for barite; not lower than 150Kg/min for bentonite. |
| Outline dimensions | 1518×708×989mm |
Rugao Yaou Company is a China-based mud hopper manufacturer and supplier. We have received the certificate of the American Petroleum Institute (API). Our major products include oil drilling equipment, wellhead control equipment, well cement tools, as well as shearing machines, and hydraulic press brakes. All our products feature reliable performance and are low-priced. Currently they are very popular with customers in Egypt, Singapore, United Arab Emirates, Kazakhstan, America, just to name a few.
If you have any solid control equipment need, please feel free to contact us.
Oil Drilling Equipment
Mud Gun
Rugao Yaou Company is a mud gun manufacturer in China. Our DN50 mud gun, a kind of solid control equipment, is designed for solid control system of ZJ drilling rig. It is mainly used in the drilling mud circulatory system, and can prevent mud precipitation.

Shale Shaker
Our shale shaker, a piece of solid control equipment, is widely used for the first phase purification of drilling liquid in petroleum exploration and exploitation operations.