Centrifuge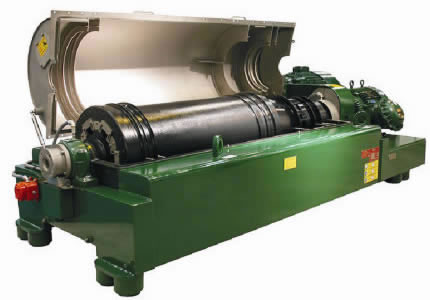 Centrifuge
A centrifuge is a piece of solid control equipment used for purifying petroleum and natural gas drilling fluid. Our LW series centrifuges are of many specifications, and provide many drive types like mains frequency dual motor drive, mains frequency single motor drive, variable frequency drive and hydraulic drive etc. to satisfy the demands of different customers.
Designed with the characteristics of offshore oil drilling operation in mind, our LW series centrifuges are of integrated frame and body, convenient for field installation and hoisting. Being explosion-proof, corrosion-proof, weather-proof and vibration resistant, our centrifugal machines are ideally suited for field operation
Specifications of Centrifuge
Technical Specifications
LW450×1000-N
LW355×1257-N
LW630×1260-N
N1
N2
N3
N2H
Main frequency
Frequency conversion
Hydraulic pressure
Drum's max. rotational speed
1800
2000
2200
2200
3000
3000
3500
1600
Max. separation factor
815
1010
1220
1220
1790
1790
2430
900
Master motor power
30 kW
37 kW
30 kW
37 kW
55 kW
Slave motor power
7.5 kW
11 kW
7.5 kW
11 kW
Max. handing capacity
60m3/h
30m3/h
50m3/h
75m3/h
Rugao Yaou Company is an API certified manufacturer of oil drilling equipment. We provide a wide variety of solid control equipment, including centrifuges, degassers, sand pumps, desanders, and more. Currently these products are sought after by customers in Australia, Germany, America, India, Brazil, among others. Based in Rugao, Jiangsu, we enjoy convenient transportation by air, land and sea, which enables us to save customers on transportation costs.
If you are interested in our products, please contact us today.
Oil Drilling Equipment
Degasser
Our vacuum degasser is a piece of solid control equipment for the treatment of gas-cut drilling fluid. It is newly developed on the basis of the internationally advanced degassers.

Desander
Our desander, a kind of solid control equipment, is a combination of cyclone desander and shale shaker of drilling fluid. The hydrocyclone is made from high chromium cast iron for good rigidity.