Traveling Block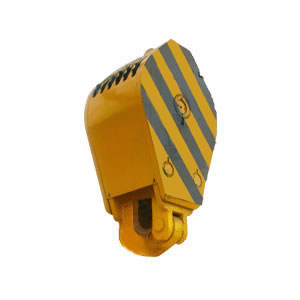 Traveling Block
Our traveling block is manufactured according to API 8A. Besides, it is in conformity with the industry standard SY/T5527. As the sheave groove is quenching treated, it is abrasion resistant and has long service life. The sheave and bearing are interchangeable for those of mated crown block.
Specifications of Traveling Block
Model
YC225
YC315
YC450
Max. hook load
2250 (500000)
3150 (700000)
4500 (1000000)
kN /(1bs)
Dia. of wireline
32 (1 1/4)
35 (1 3/8)
38 (1 1/2)
mm /(in)
Qty. of sheave
5
6
6
OD of sheave
1120(44 1/8)
1270(50)
1524(60)
mm (in)
Overall dimension mm(in)
L
2294 (90 5/16)
2580 (101 9/16)
3075 (121 1/16 )
W
1190(46 7/8)
1350(53 3/16)
1600(63)
H
630 (24 13/16)
800 (31 1/2)
800 (31 1/2)
Weight kg /(1bs)
3805(8388)
5608(12364)
8135(17935)
Rugao Yaou Company is a major traveling block manufacturer and supplier in China. With our years of experience and continuing efforts, we have obtained API certificate, and can provide a complete line of oil drilling equipment, such as solid control equipment, workover tools, oil production tools and more. To suit your various requirements, we also make other products, like shearing machines and rolling machines etc.
If you are looking for oil drilling equipment, please don't hesitate to contact us. We will offer you quality products at low prices.
Oil Drilling Equipment
Mud Pump
Rugao Yaou Company has supplied high quality mud pumps and mud pump parts to global customers for several years. Our F series mud pumps have achieved the level of LTV Co. F series mud pumps in terms of manufacturing technique and quality.

Lifting Winch
Our air winch is powered by piston-type air motor. They are designed and built according to API Spec 7K "Specification for Drilling Equipment" With the advantage of compact structure, light weight, safe and easy operation, our lifting winches are widely used for general lifting ...