JM Hydraulic Winch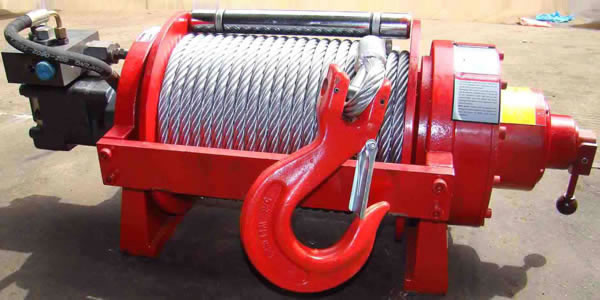 The JM hydraulic winch can be divided into JM3 series, JM5 series, JM8 series, JM10 series, and JM12 series. This product is equipped with high efficient planetary gear. Powered by electricity, the rated pulling force is as high as 80kN.
Technical Parameters
| | |
| --- | --- |
| Type | JM28 |
| Rated line pull (kN) | 80kN |
| Average rope speed (m/min) | 10m/min |
| Reel diameter ×width (mm) | 190×400mm |
| Rope Size (Dia.×Length) | Φ28mm×400m |
Product Features
1. The design in small volume saves space for installation.
2. The light weight makes for the easy and convenient operations.
3. With the electromagnetic brake system, JM hydraulic winch has longer service life.
4. Easy installation.
5. The product is made of rigid structure. During operation, the noise generated is low.
Oil Drilling Equipment
Variable Speed Hydraulic Winch
The variable speed hydraulic winch can run smoothly within the range of speed. Particularly, this product can be installed reversibly. Being high efficient, the torque motor can operate continuously. There is a mechanical lock designed for this product.

YJ Hydraulic Winch
The YJ hydraulic winch is produced according to API Spec 7K for drilling equipment. The compact structure and the light weight makes for the easy operation of the product. With stable lifting performance, this product is very popular with our customers for lifting heavy objects ...