Spinning Wrench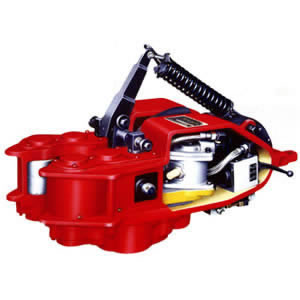 Spinning Wrench
A spinning wrench is a good substitute for rotary rope or chain. It is an oil drilling tool used to offer mechanical advantage in applying torque to turn objects. Our spinning wrench is designed and manufactured in accordance with API Spec 7K "Specification for Drilling Equipment". It is applicable to pipes with a wide range of diameter. There are two configurations for clamping mechanism, which are air tyre and air cylinder. Two driving and controlling styles are also available: pneumatic and hydraulic.
Specifications of Spinning Wrench
Model
Q200
Q250
Q300Y
Drive mode
Pneumatic
Hydraulic
Size range
mm
88.9-139.7
88.9-254
88.9-254
in
31/2-51/2
31/2-10
31/2-10
Air Pressure
MPa
0.5-0.9
0.5-0.9
psi
72-130
72-130
psi
2000
Max. brake torque
Nm
2000
2500
3000
Ft.lbf
1475
1840
2210
Speed
RPM
0-90
0-120
0-95
Air consumption
m3/min
10.3
15
GPM
32-37
Size
mm
1400*530*835
1250*570*465
1100*560*700
Weight
Kg
378
440
400
Rugao Yaou Company is a China-based spinning wrench manufacturer. Featuring reliable performance and great durability, our oil drilling tools are extensively used in Turkey, India, Singapore, Australia, Brazil, among other countries. To better suit the needs of market, we also produce well cement tools, workover tools, and solid control equipment.
For more information, please contact us directly, or browse our website.
Oil Drilling Equipment
Drilling Manual Tongs
Rugao Yaou Company is a professional manufacturer and supplier of drilling manual tongs. We mainly provide two types of manual tongs as follows:
1. Type Q86-324/75(33/8-123/4 in) drilling manual tong is a vital oil drilling tool used to fasten or remove the screws of drill pipe and casing joint or coupling.

Drill Pipe Slip
Our drill pipe slips are applicable to drill pipes from 23/8 to 51/2 inch (60.3-139.7mm) O.D. According to gripping length, they are classified into Short (SDS) type, Medium (SDML) type and Extra Long (SDXL) type.