Hydraulic Casing Tong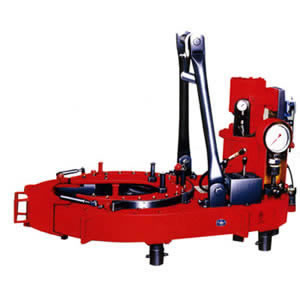 Hydraulic Casing Tong
Our hydraulic casing tongs are primarily used for making up or breaking out casings or pipes. The casing tongs are fully hydraulic driven. They are configured with a large-torque motor and perform mechanical gear change. Featuring simple structure and safe operation, our casing tongs can be supplied with torque device to complete computer monitoring and managing on pressure, torque and rounds. Our casing tongs, which are produced according to API Spec 7K, have been awarded the National Invention Patent.
Specifications of Hydraulic Casing Tong
Model
TQ178-16Y
TQ340-35Y
TQ508-70Y
Size range
mm
101.6~178
114.3~340
244.5~508
in
4~7
4-1/2~13-3/8
9-5/8~20
Max. pressure
MPa
18
21
20
psi
2610
3045
2900
Working flow
L/min
110~160
110~170
110~170
gpm
29.3~42.7
29.3~45.4
29.3~45.4
Max. torque
Hi. gear
kN.m
2.4~3
4.0~5.6
8.4~10.7
ft.lbf
1770~2210
2950~4130
6190~7890
Low gear
kN.m
15~18
26~35.2
48.9~70.5
ft.lbf
11060~13270
19175~25960
37244~52000
Speed
High gear
rpm
54~79
57~95
26~43.6
Low gear
rpm
9~13
9~15
4~6.6
Size
mm
1500×760×780
1580×900×860
2080×1280×760
Weight
kg
560
760
1550
Rugao Yaou Company is a manufacturer and supplier of hydraulic casing tongs. In addition to oil drilling tools, we also produce drill bits, wellhead control equipment and well cement tools to suit your various needs. Thanks to their reliable quality and competitive prices, our oil drilling equipment is very popular in America, Brazil, Australia, Egypt, Germany, and other countries. Furthermore, we can provide onsite maintenance, debugging, training service, as well as OEM service, upon request.
We look forward to working with you!
Oil Drilling Equipment
Hydraulic Drill Pipe Tongs
The hydraulic drill pipe tong marked with II is the power tong supplied with DS suspension device. The hanging height of the power tong can be adjusted by operating the manual control valve in the suspension device.

Spinning Wrench
A spinning wrench is a good substitute for rotary rope or chain. It is an oil drilling tool used to offer mechanical advantage in applying torque to turn objects. Our spinning wrench is designed and manufactured in accordance with API Spec 7K "Specification for Drilling Equipment".