Hydraulic Drill Pipe Tong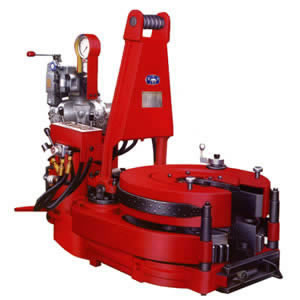 Hydraulic Drill Pipe Tong
The hydraulic drill pipe tong marked with II is the power tong supplied with DS suspension device.
The hanging height of the power tong can be adjusted by operating the manual control valve in the suspension device. It has the features of being safe, labor-saving, convenient, and reliable. Our ZQ203-125II hydraulic drill pipe tong is configured with automatic door, and realizes combined control on the clamping of the lower tong, the opening and closing of the door, and the moving of the tong body.
Specifications of Hydraulic Drill Pipe Tong
Model
ZQ127-25
ZQ162-50
ZQ203-100
ZQ203-125
Size range
mm
65-127
85-162
127-203
127-203
Max. torque
kN.m
25
50
100
125
ft.lbf
18440
36880
73750
92200
Speed (High gear)
rpm
65
60
40
40
Speed (Low gear)
rpm
10.5
4.1
2.7
2.7
Air pressure
MPa
0.5-1
0.5-1
0.5-1
0.5-1
Psi
72-144
72-144
72-144
72-144
Pressure rating
MPa
12
16
16.6
20
psi
1740
2320
2400
2900
Flow rating
L/min
120
120
114
114
gpm
31.7
31.7
30
30
Shifting distance
mm
1000
1000
1500
1500
in
39.4
39.4
59
59
Lifting distance
mm
0-440
0-440
0-430
0-430
Size
mm
1110*735*815
1570*800*1370
1760*1000*1630
1785*1080*16230
Weight
Kg
750
1700
2500
2750
Rugao Yaou Company is a professional hydraulic drill pipe tongs manufacturer and supplier in China. Located in Rugao, Jiangsu, we have access to airports, sea ports, and highways, which allows us to conveniently deliver our products. Our primary products include oil drilling tools, oil production tools, solid control equipment, and more. Featuring stable performance, long life and economical prices, our oil drilling equipment is very popular with customers in many countries, such as Australia, Brazil, India, Egypt, Germany, just to name a few.
Welcome more international customers to cooperate with us.
Oil Drilling Equipment
Spinning Wrench
A spinning wrench is a good substitute for rotary rope or chain. It is an oil drilling tool used to offer mechanical advantage in applying torque to turn objects. Our spinning wrench is designed and manufactured in accordance with API Spec 7K "Specification for Drilling Equipment".

Drilling Manual Tongs
Rugao Yaou Company is a professional manufacturer and supplier of drilling manual tongs. We mainly provide two types of manual tongs as follows:
1. Type Q86-324/75(33/8-123/4 in) drilling manual tong is a vital oil drilling tool used to fasten or remove the screws of drill pipe and casing joint or coupling.