Drilling Jar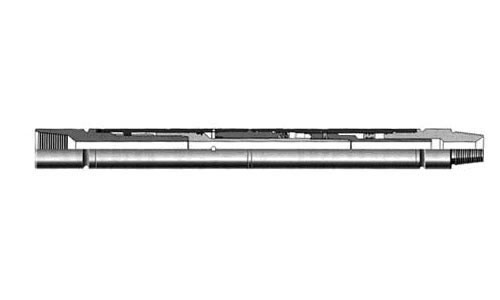 Drilling Jar
Our full mechanical drilling jar is a downhole stuck freeing tool in drilling operation, which is connected to drill tool and works with drill string. It is the preferred oil drilling equipment for directional well, complicated well and deep well.
Our drilling jar consists of ZSJ drilling up jar and ZXJ drilling down jar, both of which can be mutually used or separately operated. The up jarring section adopts hydraulic mechanism. Its jarring force can be adjusted according to the upward elevating force, while it can not exceed the max. rated load for tool. The down jarring section is based on mechanical friction mechanism. Its jarring force is pre-adjusted by adjusting device before put into downhole. Adjustment is not allowed after jar is put into downhole.
Specifications of Drilling Jar
Type
ZSJ 80 ZXJ 80
ZSJ 76 ZXJ 76
ZSJ 70 ZXJ 70
ZSJ 62 ZXJ 62
ZSJ 56 ZXJ 56
ZSJ 46 ZXJ 46
O.D.(mm)
203
197
178
160
146
121
I.D(mm)
71.4
71.4
70
57
57
51
Pull down overall length (mm)
Up
5515
5515
5424
5360
5730
5270
Down
5250
5250
5215
5208
5000
5125
Pull down stroke(mm)
Up
368
368
344
344
332
305
Down
178
178
178
178
180
178
Thread conn. API
6 5/8"REG
6 5/8"REG
NC50
NC46
6 5/8"REG
NC38
Max. tensile load(KN)
2500
2500
2500
2500
2500
2500
Max. Working Torque(N.m)
20*103
18*103
15*103
15*103
15*103
13*103
Weight(KG)
Up
1085
980
680
530
480
330
Down
1027
920
645
520
457
310
As an experienced drilling jar manufacturer in China, Rugao Yaou Company is capable of providing various kinds of oil drilling equipment, including oil drilling, oil drilling tools, and solid control equipment, and more. All our products feature reliable quality, low prices, and long service life. We are located in Rugao, Jiangsu, where convenient transportation enables us to provide our products quickly and cheaply.
We look forward to cooperating with you. Welcome to contact us.
Oil Drilling Equipment
Shock Absorber
Our double way shock absorber is a kind of oil drilling equipment used for simultaneously slowing down or eliminating the vertical or horizontal shock from drill string. It can greatly reduce the damage (caused by shock) to drill bit, drilling tool and surface drilling tool ...

Cross Over Sub
Our cross over sub is designed for connection of drill stem component, which is suitable for petroleum, natural gas and geology drilling work.