Double Drum Mooring Winch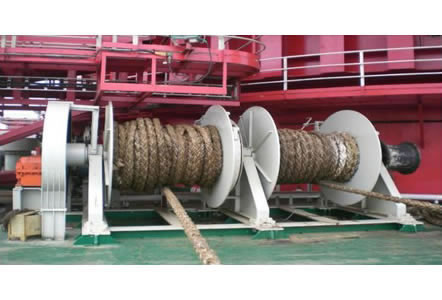 The double drum mooring winch is a kind of electric or hydraulic product. According to the requirement of the customers, the quantity of the drum can be customized.
The product powered by electricity is applicable for heavy work required big traction. For the product with single drum, the drum is driven by the reducer. The braking system is installed between the motor and the input shaft. The number of the drum of the electric mooring winch can be set up to meet the requirement for hoisting, traction and some others. The maximum rated load of the product powered by electricity is 10 tons.
The rated load of the hydraulic mooring winch is from 10t to 5000t. The high mechanical efficiency and the large torque make it suitable for the applications in different conditions. This product features compact structure, small size, nice appearance, high safety and efficiency, good stability, reliable operation and the low noise.
Technical Parameters
Series
Rated Line Pull (kN)
Rated Speed (m/min)
Drum Size (Φmm×m)
Braking Force (kN)
Motor Power (kW)
Dimensions(mm)
Weight (ton)
Length
Width
Height
HWS-20
20
12
15×200
60
11
1800
1150
1825
25
HWS-30
30
12
16×200
90
15
1950
1200
1900
3.0
HWS-50
50
12
22×220
150
22
2050
1200
2000
3.5
HWS-80
80
12
28×220
240
37
2175
1250
2100
4.0
HWS-100
100
12
30×220
300
45
2320
1285
2175
5.0
HWS-125
125
12
32×220
375
55
2385
1325
2250
5.5
HWS-150
150
12
36×220
450
75
2500
1465
2400
6.0
HWS-200
200
10
39.5×350
600
75
2600
1670
2625
9.0
HWS-250
250
10
43×450
750
90
2850
1800
2900
12.5
HWS-320
320
8
47×550
960
90
3050
1975
3100
18.0
HWS-400
400
8
52×600
1000
110
3375
2050
3400
22.0
HWS-500
500
9
56×600
750
180
4750
2800
3850
25.0
Oil Drilling Equipment
Free Fall Anchor Marine Winch
The free fall anchor marine winch is specially designed for the pile driver or lifting the object on boat. The braking system shall be controlled by hand. Particularly, the drum of this product can be pulled out. This product is manufactured with single drum, clutch and the ratchet pawl as well.

Electric/Hydraulic Marine Winch
Electric motor or hydraulic motor
Gear driven device
Spooling device