WC67K-NC HYDRAULIC PRESS BRAKE(BENDING MACHINE)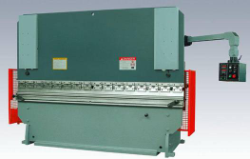 Payment Terms : L/C,T/T
Product Details

Product Description:
The performance of this type of hydraulic press brake(metal sheet bending machine):
Model: serial WC67K
1.the frame is steel-welded construction, vibration to eliminate stress. With high strength and good rigidity.
2.forcing torsion bar maintains synchronization for the two pistons,with the higher parallelism to the table. Mechanical stop nuts ensure stable and reliable positioning accuracy.
3.The stroke(Y) of ram and (X) back gauge are all controlled by E20 NC or DA-41 system with high positioning precision.
4.Balls crew is equipped to ensure the positioning precision of back gauge.
E20 NC and DA-41 system has a simple programming function.
Line transducer is equipped also.
OPTIONAL:
1 two-hand control foot pedestal device
2.it is possible for special tooling with different lengths to bend the closed frame workpiece
3. crowned compensation device in worktable is available
4.any tailor-made are available on request.
model

Nominal pressure

(KN)

Length

of table

(mm)

Distance between housings

(mm)

Throat depth

(mm)

Stroke

of ram

(mm)

Strokes

of ram

(mm)

Max.

open height

(mm)

Main motor

(kw)

Weight

(kg)

Overall

dimensions

WC67K-30/1300

300

1300

1020

200

100

≥11

210

3

1750

1530x1078x1965

WC67K-40/2000

400

2000

1650

200

100

≥11

300

4

2800

2300x1070x2135

WC67K-40/2500

400

2500

2050

200

100

≥11

300

4

3500

2800x1070x2135

WC67K-63/2000

630

2000

1650

250

100

≥10

320

5.5

3900

2300x1350x2355

WC67K-63/2500

630

2500

2050

250

100

≥10

335

5.5

5000

2750x1350x2305

WC67K-63/3200

630

3200

2670

250

100

≥10

335

5.5

5500

3450x1350x2405

WC67K-63/4000

630

4000

3200

250

100

≥10

335

5.5

6500

4300x1350x2405

WC67K-80/2500

800

2500

2050

250

100

≥10

350

7.5

6000

2780x1400x2405

WC67K-80/3200

800

3200

2660

250

100

≥10

350

7.5

6200

3450x1400x2450

WC67K-100/2500

1000

2500

2050

320

100

≥8

365

7.5

6400

2800x1350x2485

WC67K-100/3200

1000

3200

2650

320

100

≥8

365

7.5

7300

3450x1350x2485

WC67K-100/4000

1000

4000

3100

320

100

≥8

365

7.5

11600

4300x1350x2485

WC67K-125/2500

1250

2500

2050

320

100

≥8

415

7.5

7100

2850x1350x2485

WC67K-125/3200

1250

3200

2650

320

150

≥8

415

7.5

8500

3450x1550x2485

WC67K-125/4000

1250

4000

3200

320

150

≥8

415

7.5

9300

4300x1350x2485

WC67K-160/3200

1600

3200

2640

320

200

≥6

480

11

10800

3450x1600x2500

WC67K-160/4000

1600

4000

3100

320

200

≥6

480

11

11800

3900x1600x2500

WC67K-160/6000

1600

5000

4800

320

200

≥6

480

11

16700

5300x1900x3000

WC67K-200/3200

2000

3200

2650

320

200

≥3

510

11

16000

3450x1950x2685

WC67K-200/4000

2000

4000

3200

320

200

≥3

510

11

18500

4300x1950x2685

WC67K-200/5000

2000

5000

4000

320

200

≥3

510

11

21000

5300x1930x3000

WC67K-250/3200

2500

3200

2620

400

250

≥3

560

15

17000

3450x2030x3000

WC67K-250/4000

2500

4000

3100

400

250

≥3

560

15

21000

4300x2030x3000

WC67K-250/5000

2500

5000

4000

400

250

≥3

560

15

26000

5300x2100x3300

WC67K-300/4000

3000

4000

3100

400

250

≥3

560

22

22000

4100x2030x3300

WC67K-400/4000

4000

4000

3100

400

3200

≥3

600

30

22940

4080x2560x3360
Related Products